Construction Inspection Projects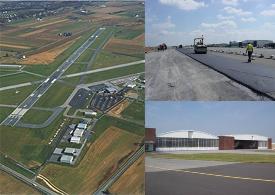 The Lancaster Airport was granted funds from the American Recovery and Reinvestment Act of 2009 (ARRA) through the Federal Aviation Administration to rehabilitate Runway #8, Taxiway "A," and Taxiway "N" at the Lancaster Airport.  The grant for the project was $3,250,000.00.  The project was funded 100% through ARRA.  Navarro & Wright was selected to provide Geotechnical services for this project to include acceptance testing services of the approximately 15,000 cubic yards of embankment, 20,000 tons of P-154 aggregate subbase and 50 cubic...
read more
PA DGS Project No. DGS 375-3: Construction of a New 128-Cell L-3 Close Security Housing Unit.  The proposed project includes the renovations to the existing expansion of the prison site, on-site testing of concrete cylinder testing and compaction testing using the Troxler gauge.  Services include placement of fill soils, placement of aggregate subbase, placement of asphalt, placement of concrete, drilling of caissons, and field and laboratory testing of concrete as well as laboratory testing of soils for construction.  N&W team includes...
read more
N&W provided Inspection Services as part of this Open End Contract with the PTC for Western Expansion Projects MP 0.00 to MP 247.00 and James E. Ross Highway, Amos K. Hutchinson Bypass and Mon/Fayette Expressway.  Performed construction inspection services on several work orders consisting of MP 151.09 – All aspects for the removal and replacement of new bridge, MP 180 to MP 186 Concrete Roadway Rehabilitation, Joint Stabilization, Milling, and Bituminous Paving Overlay of four lane divided highway, MP 30 to MP 44.8 Roadway...
read more