Energy Projects
N&W has provided engineering design, environmental, permitting, and surveying services for 100+ miles of natural gas gathering lines. These projects required boundary and topographic survey, wetland delineations, cultural resources, geotechnical engineering, Right-of-Way acquisition, expedited ESCGP permit approvals, PA DEP Chapter 105  or USACE Joint Permit approvals, PennDOT Highway Occupancy Permits (HOP), construction stakeout, and construction documents.  ArcGIS was utilized to develop scouting maps, to perform utility corridor...
read more
N&W served as the design consultant for t 78,500 linear feet of 16-inch low pressure and 20-inch high pressure natural gas gathering lines and associated spur lines in Bradford County, PA for Talisman Energy USA. N&W was responsible for the effective implementation of the project from conception, routing, field investigations, and design through to permitting and construction.    In total, this project included tie-ins to 16 separate well pads.  Project included a dual 16-inch and 20-inch trunk line and associated 12-inch, 10-inch,...
read more
Navarro & Wright Consulting Engineers conducted surveying, mapping and environmental wetlands field views for a proposed 2.2 mile natural gas pipe line in the Marcellus Shale areas of Steuben County, New York.  We prepared a General Permit Application and an Army Corps of Engineers permit submittal with documentation.  Rights-of-way plans with bordering property owners were shown for the alignment.  The pipe line also crossed an existing gas line for which profile plans were prepared showing  approximate crossing depths.  Dig Safely New...
read more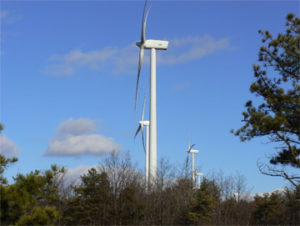 N&W provided services to the Logan Township Planning Commission related to the planning, design, and construction of the proposed Chestnut Flats Wind Energy Project located in Logan Township, Blair County, Pennsylvania. Chestnut Flats Wind, LLC proposed to construct nineteen (19) 2.0 megawatt wind turbines capable of providing up to 38 megawatts of electric power to the local power grid. Turbines are proposed to be constructed on 78 meter (256 feet) to 100 meter (328 feet) towers within the Township limits. N&W provided technical...
read more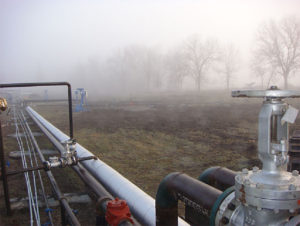 Rights-of-way and edges of existing county cartways, driveways, structures, access roadways, swales, power utility poles, gas lines and physical features were surveyed and mapped for 4.5 miles to select alignment for construction of a natural gas line in Owego, Tioga County, New York. The plans were prepared and alignments were reviewed based on topographical and physical features. Details of existing drainage features were included in the plans. These plans were presented by Mega Energy to Tioga County for construction....
read more