Landscape Architecture Projects
Navarro & Wright Consulting Engineers, Inc. (N&W) is leading a multi-disciplinary team to update an existing Master Plan Report from 2006 and also update an associated Economic Analysis for repurposing an abandoned section of the Pennsylvania Turnpike into an eight and a half (8.5) mile linear recreational trail/corridor known as The Old PA Pike. This segment includes the Rays Hill Tunnel, Sideling Hill Tunnel, and the former Cove Valley Service Plaza and was abandoned by the PA Turnpike Commission in 1968. The revised Master Plan...
read more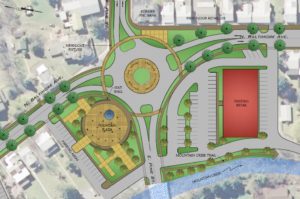 This project analyzed and addressed community needs for revitalization in order to enhance mobility, safety, and the economic development of the Borough of Mt. Holly Springs in Cumberland County, PA. A major aspect of the plan focused on safety improvements and traffic flows on the "Main Street" Baltimore Avenue corridor and required proactive land use planning, transportation planning, economic development planning and implementation strategies. The design process included a series of public meetings with very engaged, standing room only...
read more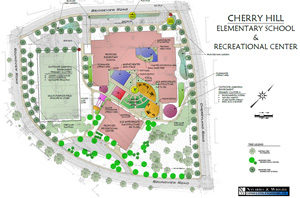 The Cherry Hill Elementary-Middle School was built in two phases in 1945 and 1959. Navarro & Wright Consulting Engineers, Inc. (N&W) participated in a feasibility study that was performed for this facility, recommended the retention and renovation of the 1945 wing and demolition and replacement of the 1959 wing. Retention of the 1945 wing was also assessed to be more environmentally-friendly, requiring less new resources. N&W provided site civil and geotechnical engineering services to the architectural design team for this...
read more
Navarro & Wright Consulting Engineers, Inc. (N&W) has completed numerous assignments in support of Washington Suburban Sanitary Commission (WSSC) projects since 2012. N&W is part of the design team selected to design a new $6.4 million visitor's center/staff support facility to be constructed on the grounds of WSSC's existing Brighton Dam public recreation area in Montgomery County, Maryland.  A longtime champion of environmental stewardship, WSSC offers public recreation opportunities at the Brighton Dam watershed where the...
read more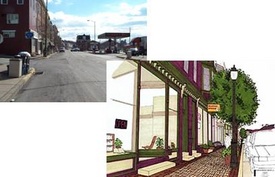 Navarro & Wright Consulting Engineers, Inc., surveyed, mapped and designed approximately 6000 lineal feet of existing State and Borough roadways for a beautification project in the Borough of Steelton, Dauphin County, Pennsylvania. The site includes roadways, curbs, sidewalks, trees, utilities, traffic signals, 50 businesses and 100 residential properties. The design included the coordination and selection of materials, trees and utilities such as new street lights with underground electrical conduits and wiring extending from existing...
read more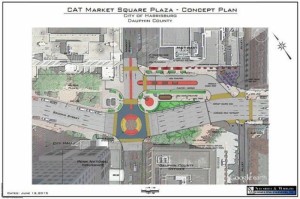 N&W recently developed concept plans for Harrisburg's Capital Area Transit's Market Square transfer station makeover. To complement recent hardscape work, CAT plans to use a $150,000 grant to make a series of improvements to the downtown transfer station. The design includes a raised pedestrian-friendly intersection, which CAT said would brand the square and slow down traffic that approaches on Second Street. An elevated archway sign that reads "Welcome to The City of Harrisburg," will greet those approaching the...
read more
The Landscape Architecture Group of Navarro & Wright Consulting Engineers, Inc. (N&W) worked with the City of Johnstown on a Pennsylvania Community Transportation Initiative (PCTI) project involving the realignment of John's Street with PA Route 56 to better introduce the downtown Central Business District and solve traffic concerns within that area of Route 56. The project focuses on an existing city gateway area that did not serve the city well in introducing the downtown to the high volumes of traffic that utilizes the by-pass...
read more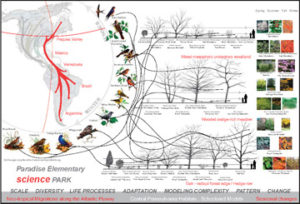 Navarro & Wright is proud to have been the Civil Engineer for this LEED Gold-certified facility which earned the Green Building Association of Central Pennsylvania's Design Award competition in 2009.  Built on the 17-acre site of the existing elementary school, Pequea Valley School District sought to build a school that conserved land resources, optimized energy performance, reduced energy consumption and costs, reduced water consumption, lessened storm water impact, and supported the regional economy by utilizing regional materials...
read more