Site/Civil Infrastructure Projects
Navarro & Wright Consulting Engineers, Inc. (N&W) is leading a multi-disciplinary team to update an existing Master Plan Report from 2006 and also update an associated Economic Analysis for repurposing an abandoned section of the Pennsylvania Turnpike into an eight and a half (8.5) mile linear recreational trail/corridor known as The Old PA Pike. This segment includes the Rays Hill Tunnel, Sideling Hill Tunnel, and the former Cove Valley Service Plaza and was abandoned by the PA Turnpike Commission in 1968. The revised Master Plan...
read more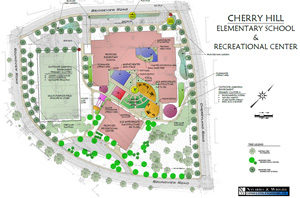 The Cherry Hill Elementary-Middle School was built in two phases in 1945 and 1959. Navarro & Wright Consulting Engineers, Inc. (N&W) participated in a feasibility study that was performed for this facility, recommended the retention and renovation of the 1945 wing and demolition and replacement of the 1959 wing. Retention of the 1945 wing was also assessed to be more environmentally-friendly, requiring less new resources. N&W provided site civil and geotechnical engineering services to the architectural design team for this...
read more
Navarro & Wright Consulting Engineers, Inc. (N&W) has completed numerous assignments in support of Washington Suburban Sanitary Commission (WSSC) projects since 2012. N&W is part of the design team selected to design a new $6.4 million visitor's center/staff support facility to be constructed on the grounds of WSSC's existing Brighton Dam public recreation area in Montgomery County, Maryland.  A longtime champion of environmental stewardship, WSSC offers public recreation opportunities at the Brighton Dam watershed where the...
read more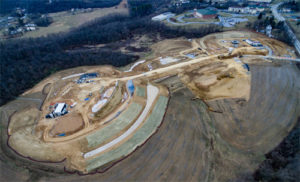 Navarro & Wright Consulting Engineers, Inc. (N&W) is the site civil engineer & landscape architect for this new municipal complex based on a building area of 24,000 square feet. The site design includes a new township administration building, new fire/EMS building, athletic fields, associated parking facilities, stormwater management facilities and access drives on a 12 acre site for South Hanover Township. N&W services include land survey, wetland delineation, a Phase I archaeological study, traffic study and PennDOT Highway...
read more
The project involved the redevelopment and conversion of the vacant Steelton Elementary School Campus into a 83 unit apartment complex.  The focus of the project was maintain, and enhance, the existing architecture of the nearly 100 year old school buildings.  The site design included modifying the existing paved exterior to provide onsite parking and green open space.  The project also required compliance with federal and state funding agencies who were providing the developer with financing for the project.  Navarro & Wright also...
read more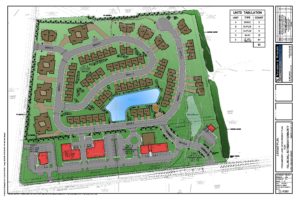 N&W provided professional engineering and land surveying services to JPM Keller (Owner) that were associated with the preparation of Preliminary and Final Land Development Plans for a residential retirement community consisting of approximately eighty-four (84) condominium units and associated buildings and commercial development situated on twenty-eight (28) acres located in Lower Swatara Township, Dauphin County, Pennsylvania.  N&W provided geotechnical services including drilling services, drilling inspection, lab testing...
read more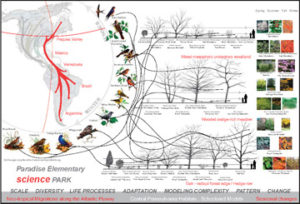 Navarro & Wright is proud to have been the Civil Engineer for this LEED Gold-certified facility which earned the Green Building Association of Central Pennsylvania's Design Award competition in 2009.  Built on the 17-acre site of the existing elementary school, Pequea Valley School District sought to build a school that conserved land resources, optimized energy performance, reduced energy consumption and costs, reduced water consumption, lessened storm water impact, and supported the regional economy by utilizing regional materials...
read more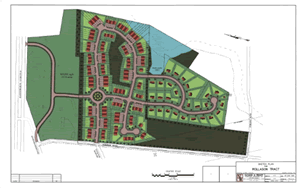 When client Yingst Homes, Inc. needed assistance designing an internal roadway network for a subdivision they turned to Navarro & Wright to manage the task successfully.
read more