Our clients count on our multi-disciplined staff and modern equipment to provide expert testing and quality control.  Whether preparing a site, evaluating an existing structure or facility, or requiring ongoing testing, Navarro & Wright has the equipment, facilities and expertise you need. We provide top-quality sampling, testing and analysis to help you meet project requirements and provide recommendations for types of testing to accurately suit the specific requirements of your projects.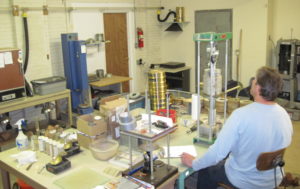 N&W operates two AASHTO–accredited (American Association of State Highway and Transportation Officials) materials testing laboratories.
Our AMRL-inspected laboratory provides numerous soils, compaction, strength, consolidation and chemical testing in accordance with applicable AASHTO standards.  The US Army Corps of Engineers approved N&W's lab to perform various soils tests based on their AASHTO accreditation.
Our CCRL-inspected (approved) laboratory provides numerous concrete, masonry and quality management systems tests in accordance with applicable ASTM standards.
The AASHTO Accreditation Program (AAP) is the largest accrediting body of construction materials testing laboratories and formally recognizes the competence of testing laboratories to perform specific tests on construction materials. AAP is a voluntary program that is available to all testing laboratories including government, commercial, university, and research facilities.
Lab services include :
Soil Tests
Visual Identification – ASTM D2488 and AASHTO T190
Moisture Content –  ASTM D2216 and AASHTO T265
Particle Size Analysis – ASTM D422 and AASHTO T88
Percent Fines –  ASTM D1140
Liquid Limit –  ASTM D4318 and AASHTO T89
Plastic Limit – ASTM D4318 and AASHTO T89
Specific Gravity- ASTM D422 and AASHTO T100
USCS Classification of Soils – ASTM D2487
Compaction Tests
Standard Compaction –  ASTM D698 and AASHTO T99
Modified Compaction – ASTM E1557 and AASHTO T180
Strength Tests
California Bearing Ratio –  ASTM I883 and AASHTO T193
Direct Shear – ASTM D3080 and AASHTO T236
Unconfined Compressive Strength of Cohesive Soil – ASTM D2166 & AASHTO T208
Unconfined Compressive Strength of Rock Core – ASTM D7012 (method C)
Unconfined Compressive Strength of 6" dia. Concrete Cylinders – in accordance with ASTM C39
Consolidation Testing
One-Dimensional Consolidation of Soil –  ASTM D2435 and AASHTO T21
Chemical Tests
pH of Soils – ASTM 4972 and AASHTO T289
Minimum Resistivity – AASHTO T288
Sulfate Content –  CalDOT 417
Chloride Content – CalDOT 422