Navarro & Wright is a leader among geotechnical firms in the Mid-Atlantic region. We engage in an array of project phases, from administration of drilling contracts to providing subsurface design information, composition of engineering and geological reports, and numerous other specialized geotechnical services.
In transportation, our geotechnical services are necessary for highways, railroads and airports. For utilities, we work on construction projects related to drinking water, storm water, wastewater, and distribution centers. We perform geotechnical services for new subdivisions and sites for private-sector clients. Our geotechnical engineers can spot problems quickly and recommend solutions.
Geotechnical reports must be accurate. In the field, our engineers utilize advanced technologies and in our labs, technicians test soil and rock samples using automated equipment, all calibrated to regulatory specifications. Our standards meet or exceed those set by State DOT's and National ASTM and AASHTO regulations.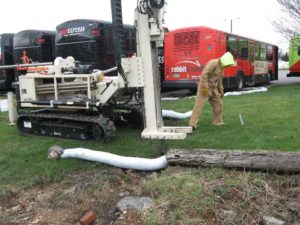 Geotechnical services include:
Structure Foundation Reports
Bridges
Buildings
Retaining Walls
Noise Walls
Geotechnical Engineering Reports
Reconnaissance, Soils & Geological Engineering Reports
Drilling Contract Administration
Drilling Inspection
Drilling Inspector Training
Mining & Environmental Research
Geological Assessments
Aerial Photograph Interpretation
Property Investigative Reports
Percolation Tests—SEO
Hydrological Investigations
Sinkhole Investigations and Remediation